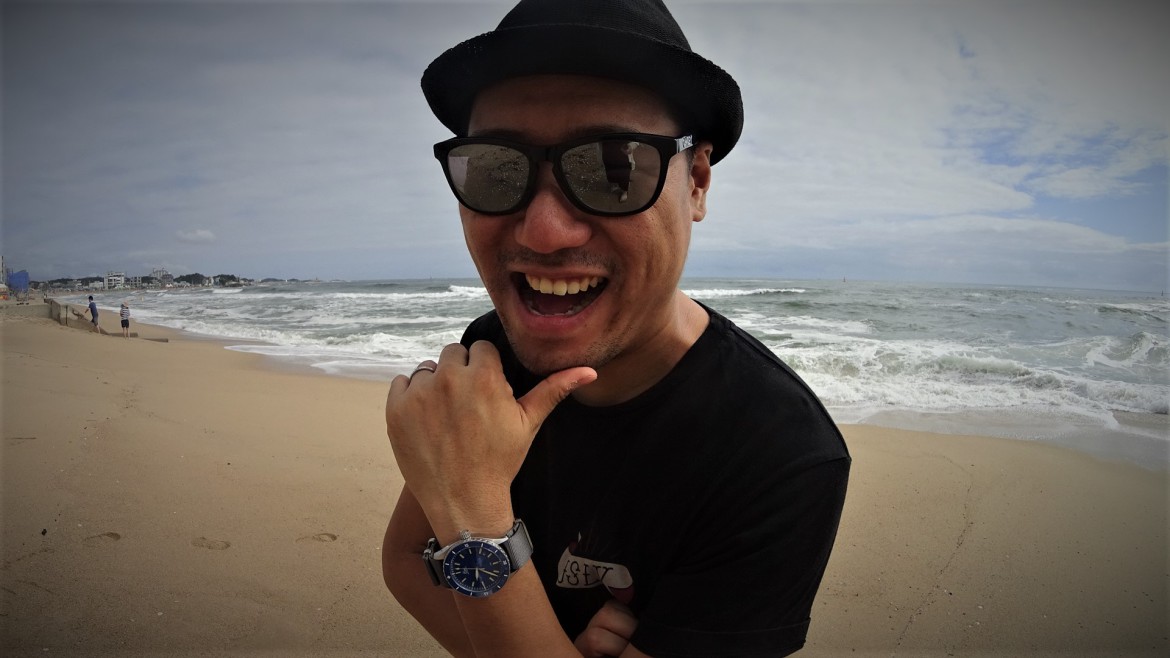 Mr. Yunglak Choi: Our very first client from South Korea
Eza: When did your passion for watches start?
YC: "When I was around 12 years old, I saw the educational cartoon in "Junior Science Magazine", which  explains the principles of automatic watches. I thought it was amazing that it could generate energy from daily wearing my watch. From then I thought that someday I had to have an automatic watch. It took me more than 10 years to get my own automatic watches. My first automatic watch was a gift for university graduation from my brother-in-law. It was an Oris BC3 Advanced. From then, I think my passion for automatic watches grew even more rapidly."
Eza: Tell us about your business and how has your business been so far?
"I'm an assistant manager in the marketing department at K-Bank (www.kbanknow.com) which is the first direct bank in South Korea. I work mostly on advertising and sales promotion. This company has only been in operation for three months but doing well."
Eza: What are your dreams/plans in the future?
"Someday, I'll be in charge of marketing in a big watch company and make some of the brands grow to make it great. I'm not fan of Jean Claude Biver but in the perspective of marketing, what he has done is amazing. To make my dream come true, a great passion of watch is needed and I found one in Eza Watches. Actually the brand of Eza watch is my role model for my dream."
Eza: What kind of watches do you own next to the Sealander?
"Since 2015, my enthusiasm for dive watches got a lot getting bigger. My first dive watch was a NTH Nacken which is an homage of Tudor Marine Nationale and second one is the Sealander. I think the third dive watch should be the Sub(116610). I finally pulled the trigger this July to buy it."
Eza: What are your top 3 holy grail watches? (and stick to 3)
"As tool watch guy, my top 3 watches are Aquanaut Travel Time, ROO diver and Ressence Type 3"
Eza: How did Eza Watches came on your radar?
"I fell in love with Tudor Pelagos Blue but thought it wasn't enough bang for the buck and too big for my 6 and half inch wrist. Since then I started to search for a watch on the internet which has 1)deep blue dial and bezel (not navy) 2)ceramic bezel 3)ETA movent(not miyota) 4)under 42mm. Finally I found one on Hodinkee's review and it was the Eza Sealander. It was more blue then the Pelagos, and more classic with patina index and elegance looking."
Eza: What do you like about Eza Watches?
"I really love the gorgeous deep and matt blue colour which can't be found anywhere else. The printed date dial of Sealander is perfectly matching with deep blue dial and bezel and it gives an elegant and luxurious feeling compared to other watches in this price range. The ETA 2824 movement is adjusted to 6 positions, this is also a great advantage of the Sealander. I have not seen 6 position adjusted ETA movement in this price range and think I will not see them in the future.
The hardware of the NATO strap is very high quality and leather strap is also fantastic."