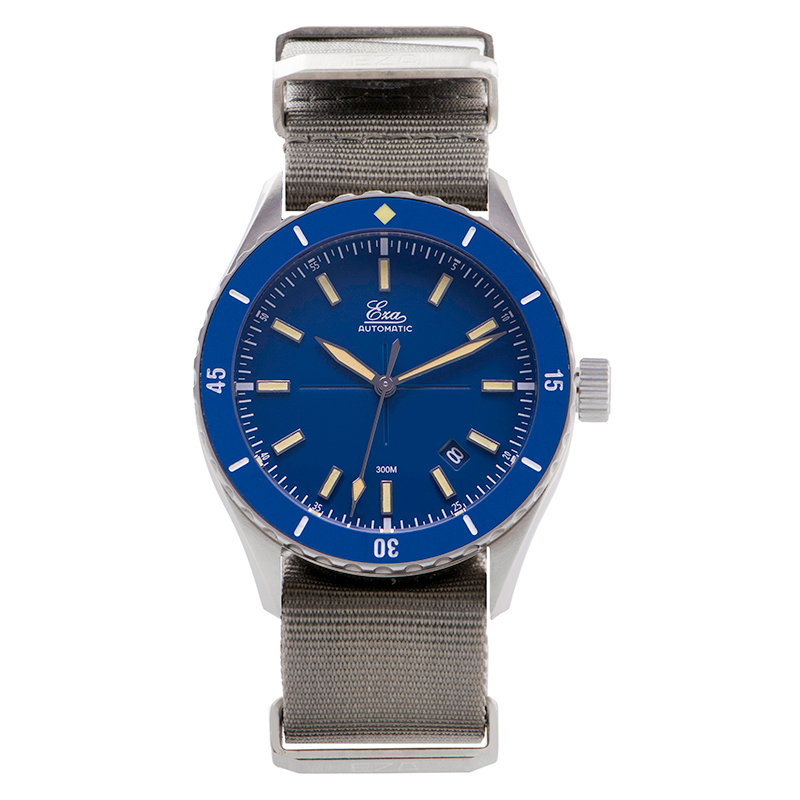 How can you spend your Sunday better than drinking coffee and talking about watches.. okay I see you thinking "drinking beer and talking about watches" and maybe you're right.
But for me drinking beer at 9 in the moring isn't a good start of the day. So last Sunday I started with coffee at the 'Dutch Made Showcase' and met up with Mr. Trampe and Mr. van Golen co-founders of Eza Watches. Wait, Co-founders of Eza? A watch brand establised in 1921 in Pforzheim. I know it sounds a bit strange, these gentlemen are not 95 years old, but actually they are the re-founders of Eza Watches.
If you ask them about how they met, you will see 'drinking beer and talking about watches' are truly the best things in life. This is how they met up in their college time in a local pub. They didn't knew each other at that moment, but when Mr. Trampe spotted the nice vintage watch of Mr. van Golen he didn't hesitate about the fact that they shared the same passion. So he decided it was time to 'drink a beer and talk about watches'. More day's and more beers and coffee followed and this is the result; A  watch brand re-launched by two watch heads. Mr. van Golen tells us they debated a lot of evenings and Sundays mornings about the first model after the resurrection of Eza Watches and they kept on going back to vintage inspired divers, but with enough class to wear during a board meeting, job interview or first date.
Eza Watches was original founded in 1921 in Pforzheim, Germany. They became well-known for the construction and manufacturing of their water resistant watch cases. Call it bad luck, unfortunately Eza did not survive the quartz crisis. Resulting in the brand's downfall. Now, a few decades later, Eza is alive and kicking again. What's good to see is the fact that Eza nowadays shares the same vision as the Eza from back in 1921; creating affordable luxury timepieces with mechanical movements. The brand remains true to its original principles: being waterproof, accuracy, craftsmanship and style.
Okay, we can discuss long about style and matters of taste, but this watch looks pretty cool in my opinion. Many brands nowadays bringing back the models that are loved by vintage watch heads, for instance the Omega 300 Master and Spectre and the Longines Legend Diver. In my opinion that trend isn't something that should play a big role in the design of new watches. I prefer real vintage watches over re-styled 'fake' vintage watches. All cool with the vintage looking lume and all, but not my cup of tea.
But the Eza Sealander works for me. You can see the Sealander is strong inspired by vintage divers no crownguards, simplistic but elegant design when we look at the shape of the hands. They made it a modern day watch and not a re-styled vintage. You can describe it as a new classically designed timepieces. The dressy diver is able to perform 300 meters under sea-level so you can call it a professional dive watch. The Sealander also has a more stylish appearance with a case of 316L, it comes in a diameter of 41 mm and has a ceramic bi-directional bezel. The bezel is great, it operates really smooth without space or tolerance between the "clicks". Nice shiny ceramic inserts with C3 Super-Luminova give the watch elegance and is complementing the lapped dial. On the dial, you'll find indexes – again – filled with C3 super-Luminova.
The beating heart of the Sealander is the well known ETA 2824 Calibre. The Sealander is assembled at Eza's watch making facility in the Netherlands and adjusted to 6 positions.
If you are swimming or diving very vast with a Sealander around your wrist, you could confuse other diving watch heads, because truly the Sealander could be the little little brother of the Blancpain Fifty Fathoms Bathyscaphe when it comes to the design. Everyone gets inspired by something, but there are a few strong similarities shown here in my opinion.
And on the very old Dutch question "wat kost dat"(what's the price) €701,65 excl VAT. In my opinion this is a very very sharp price for this watch. And they have made it even better, the watch comes in a leather Watchroll, with a Free Eza NATO Strap, Changing tool and a Full movement service after 3 years.
So if you are a vintage watch head an looking for a perfect holiday watch or if you are deciding to buy your first mechanical watch or you just like it like I do, you go for the Eza Sealander. A great watch for maybe an even better price!